Last modified: October 21, 2022
French Dual Immersion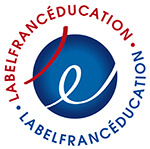 More than forty years of research consistently documents the power of immersion programs to help students attain high levels of second language proficiency. No other type of instruction, short of living in a second-language environment, is as successful. Young children especially thrive in this type of instructional environment. Dual language immersion offers a rich bilingual experience for young learners when their minds are developmentally best able to acquire a second language.
Edgemont Elementary was one of 17 schools worldwide to be recognized by the French Ministry of Education for outstanding French language instruction.  This special designation is a result of high quality teachers and staff found at Edgemont Elementary who all go to great lengths to ensure every student is succeeding.  The designation, or the distinction, is called the "LabelFrancEducation," which Edgemont received in June 2012.  The French Government sent Edgemont a special logo that will be used on our websites and printed materials to show the honor and recognition that was received.
Dual Immersion Documents
Interested in French Books for your child?
Here are a couple of excellent websites where you can order some: